"The heavens declare the glory of God; the firmament proclaims the works of his hands. Day unto day pours forth speech; night unto night whispers knowledge." (Ps 19:1-3)
Mission Statement:
The St. Vincent de Paul Church Care for Creation Ministry, guided by the Catholic Tradition, seeks to listen to and answer the cry of Creation by engaging our community in just, nature-nourishing, and sustainable practices, and environmental advocacy. We work to foster our communal "ecological conversion" through prayer, practice, and learning.
"Living our vocation to be protectors of God's handiwork is essential to a life of virtue; it is not an optional or a secondary aspect of our Christian experience." (Pope Francis, Laudato Si')
Some key values:
EQUITY: All life is sacred and deserves its inherent dignity to be cultivated and respected.
STEWARDSHIP: Per scripture, humanity has a special responsibility to care for Creation.
SUSTAINABILITY: Human flourishing is bound up in the flourishing of Creation.
ENVIRONMENTAL JUSTICE: The Vincentian call to care for the poor requires a commitment to protect vulnerable ecosystems and the vulnerable human populations, disproportionately black and brown, who also depend on them.
"We have all been called by God to work on a masterpiece." (St Vincent de Paul)
Get Involved!
There are several ways to get involved with this ministry:
Helpful Links:
Catholic Organizations and Movements
Prayers and Devotions
Resources and Documents
---
Meditation on Care for Creation
(In the tradition of Plum Village, especially Joanna Macy, Thay, and Tom Chapin)
Let ourselves take a deep breath and relax our bodies.
Breathing in, I enjoy breathing in. I smile. I am aware of this beautiful planet earth. I smile with gratitude to Mother Earth.
This pretty planet spinning through space you're a garden you're a harbor you're a holy place
Breathing in, I know I am a part of Mother Earth. Breathing in, I feel alive.
Being alive is a miracle. I feel grateful for being alive.
We are breathing in as so many are doing in this moment around the world. For some this is their first breath, for some it is their last. We can experience the blessing of life at this moment.
For those of us at St Vincent's, we are so grateful for our ancestors who made a way to live in a spirit of care for creation on this beautiful planet, even in the face of environmental racism, poverty, gender based discrimination, and marginalization. Look at them! Look at God! Thank you, God, for making a way.
As we look around this church, we are grateful to our spiritual ancestors for their examples. We breathe in, together, in this moment, this now.
We call on our ancestors, all the angels and saints, to order our steps as we care for creation. The creation that is this planet and the creation that is ourselves – we are not separate from creation. Dear Mother Earth, you're a garden, you're a harbor, you're a holy place. And so are you, dear siblings in Christ. We are a garden, we are a harbor, we are a holy place.
This pretty planet…
Breathing in, we feel the support of Mother Earth under our body, where our body is being held by gravity, and our church also held in place by roots, stone, earth. Our own bodies, making contact with the wooden pew, making contact with the floor, with earth. We breathe in, feeling the support of Mother Earth. We are grateful.
This pretty planet…
We invite you in the spirit of our meditation to bring any electronics that would be thrown in the trash to be recycled and place them in the bin at the entrance of church.
Happy 8th Birthday, Laudato Sí!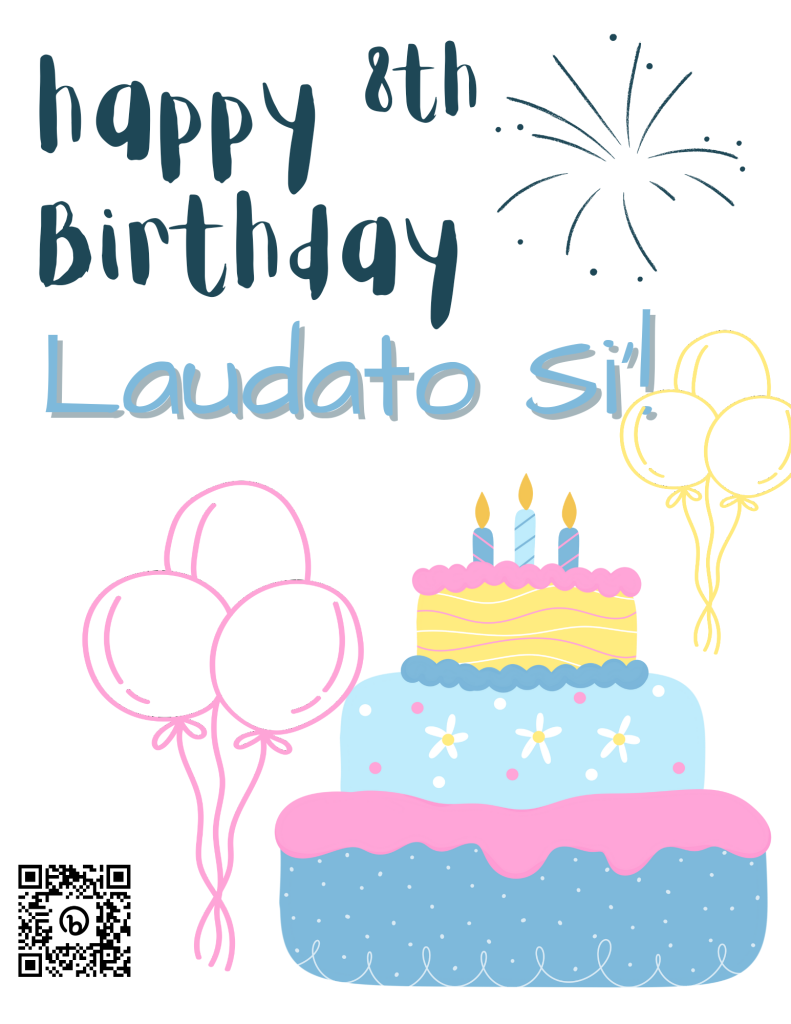 Read more about Laudato Sí here: https://laudatosiweek.org/
Photos From Our Recent Neighborhood Garden Cleaning